SupplierGATEWAY Enhanced Digital Certification (EDC)

Video : HALTZGLOVES at night!
---
HALTZGLOVES can be seen for an amazing 1250 feet. Please consult our Glove Sizing Chart before ordering your HALTZGLOVES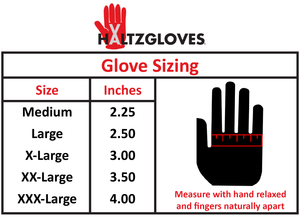 HALTZGLOVES SIZING CHART
HALTZGLOVES are Unisex Compression Gloves, so they are sized to fit both men and women, for year round use both day or night!
New sizes introduced for Pink Glove only-SMALL, ITSY BITSY KIDS
The premium material of our reflective safety gloves is comprised of stretchy moisture-wicking fabric to offer fast drying in addition to a compressed fit. This high-quality fabric also offers a variety of benefits.
*Easy to wash and care for
*Moisture wicking
*Compression benefits
NEVER, NEVER, EVER PUT YOUR HALTZGLOVES IN THE DRYER
Learn More
How far can you see HALTZGLOVES?
---
Customer Reviews
"These are the best reflective gloves"..Chief Elllis Brunswick Schools""
These are the best constructed most logical reflective gloves on the market and all Law Enforcement should be using them" T.C. 
"Outstanding product and fast shipping! several motorist have stated they can see gloves .25 miles approaching traffic area!" Steven, Dandridge TN
"Buyer demonstrated product at Louisiana Chief's of Police Association Conference. They feel so good on my hands and are very functional. Love them. I have been recommending them to coworkers". Franklin, Haynesville, LA
"Being on a emergency response team we are often doing traffic control, These come in handy at night"  William Karlberg, Lake Zurich, IL"
My husband is a deputy and got these to try out...he was tired of people  saying they could not see his hands during the day and the flashlights do no good. His co-worker was a good distance away and said " Man, I think i can see you now" LOL Jessica, Wetompka, AL
"Great buy, very well made! I usually wear a small but read to buy one size bigger so i bought a medium and they fit great. Very comfortable and work great for traffic" Stacey, Stockton, CA 
Runners love these gloves!!
Video: What's she wearing??
---
HALTZGLOVES gives back by supporting a Cure for Breast Cancer!
Our Pink glove is now a year round product produced in support of Susan G. Komen Foundation.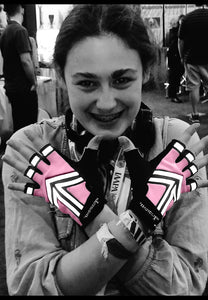 SUSAN G. KOMEN ® PINK GLOVE
HALTZGLOVES is pleased to announce HALTZGLOVES is going "Pink" in support of Susan G. Komen ®  for National Breast Cancer Awareness Month .
August-December HALTZGLOVES will donate to  SUSAN G. KOMEN ® $5.00 for each set of Pink Gloves sold.
HALTZGLOVES CEO Deidre Goodwin has chosen "Bringing a HALTZ to Breast Cancer" as the Campaign Slogan for HALTZGLOVES.
Goodwin's own personal story has led to this amazing moment. 
"My mom's best friend passed away from breast cancer. My parents stepped in to assist with the care of her children. It is hard to believe that 20 years later we are still talking about breast cancer. Millions have been affected by breast cancer and I want to change that. I am so honored to know that HALTZGLOVES can have a part in finding a cure," she stated.
HALTZGLOVES' is proud to be an Official Partner of SUSAN G. KOMEN ® and are excited to present our Pink glove into the HALTZGLOVES inventory. 
Order here .
Let's bring an end to breast cancer!
See HALTZGLOVES Cutest Pink Car!
Click here to order: SUSAN G. KOMEN ® PINK GLOVE
Traffic Safety Gloves
HALTZGLOVES is raising the bar for high-visibility traffic safety gloves. Our company was born out of CEO Deidre Goodwin's experience of being almost struck by a car in the line of duty. After months of failing to find a product that would increase visibility and rectify this issue for not only directing traffic, but cyclists, joggers, and motorists alike, she created HALTZGLOVES' revolutionary reflective traffic gloves. Our traffic safety gloves are patented with a material that boasts an amazing linear visibility of 1250 feet. Whether you are a first responder or those directing traffic or pedestrians, our reflective gloves will increase your visibility and help you give clear direction.
---